There are many fencing and gate materials available, and wood is a popular choice. However, there are pros and cons of wood gates that may help you decide if it is the right material for your property. Consider these facts before choosing a wood gate: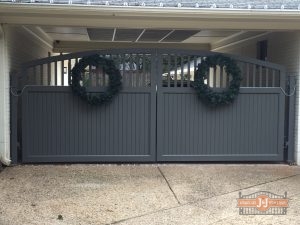 Wooden Gates can be Painted or Stained to Suit Your Style, but Require Regular Maintenance
Pros
There are many reasons why wood gates are so popular, from their versatility to unique style. Wood is completely unlike iron, chain link, or any other gate material. Available in a variety of colors, wood gates can be stained or painted to achieve the look you want. Whether you want a more rustic appearance or something more polished and sophisticated, wood is a versatile material that can accomplish both styles. It is also a sustainable and natural material, typically making it more affordable than a wrought iron gate.
Cons
One downside to wood gates that some homeowners dislike is their upkeep. Depending on the conditions your gate is in (such as full sun vs. shade, frequent moisture or rain, etc.), you will need to repaint or restain your gate every one to two years. Because it is a natural material, it is susceptible to wear over time and consistent maintenance is the only way to make it last. You should also make sure the wood is properly treated to avoid insect damage.
_If you have other questions or concerns about the pros and cons of wood gates, call J & J Gates Service and Design at _! Our professionals craft and install all types of gate systems in Dallas and Fort Worth, TX and we are happy to help you find the perfect gate for your home or business!
Posted in Uncategorized on April 14, 2017 at 4:06 pm by J J Gates.
Return