J & J Gates Service and Design is available for all your residential and commercial gate installation and repair. You can count on our skill and great reviews over the past 10 years in automated gate installation across the DFW metroplex. Call us at (817) 466-2794 for trusted gate system repair and installation in Crowley, TX anytime.
Our Services
At J & J Gates Service and Design, we specialize in everything from aging gate repair to designing new, high security gates for businesses and private residences. Our experienced installers can repair and install all kinds of gate systems, plus garage doors, fences, and other components. The primary purpose gates provide are security and looks, so we work hard to provide both according to your needs. Call us today if you need premier gate repair and installation in Crowley, TX, such as:
We Work on All Types of Gates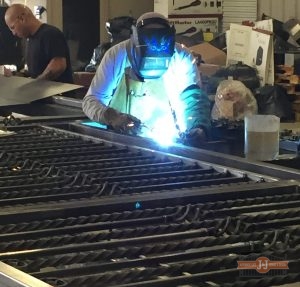 Do you need a high quality wooden gate for your driveway or a high-tech access system for your company? On every job, J & J Gates Service and Design works to meet your unique needs and stay within budget while providing quality, beautiful results. We are proud to provide a wide selection of gate types and designs, using only top quality materials and manufacturers. Whether you simply want a built gate or a custom gate, we have a solution for you. Call our company today for information about the types of gate systems we offer in Crowley, TX at (817) 466-2794. Our crew services all types of gate systems, including:
Options for Everyone
You can rest easy knowing that our contractors take care to hear your needs to achieve a reliable gate that meets your criteria. We will take all of your needs and preferences into our design process in order to create the right gate for you. With our extensive selection of premium access systems and materials, you will not be let down by our services. If you're not sure what kind of gate you need, our design team is happy to assess your property and needs to deliver a free estimate. Whether you need a simple gate system or have a unique request, we look forward to helping you find the ideal gate system. When deciding the type of gate you need for your residential or commercial property, consider some popular styles:
Our experienced technicians are here for you, so give us a call at 817-466-2794 when you need trusted gate services in Crowley, TX.