J & J Gates Service and Design is here to provide all your commercial and residential gate installation and repair. Our staff has more than a decade of experience in installing all kinds of gate systems in DFW. Give us a call at (817) 466-2794 for quality gate repair and installation in Duncanville, TX anytime.
Our Services
Whether you need a repair done on an old gate system or want a beautiful, custom fabricated gate, you can rely on J & J Gates Service and Design. Our skilled installers can service all types of gate systems, plus garage doors, fences, and other components. The main purpose gates serve are security and looks, so we work hard to provide both according to your specifications. Call our company anytime when you need exceptional gate services in Duncanville, TX, such as:
We Work on All Types of Gates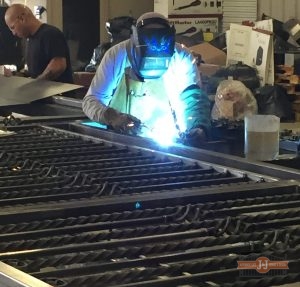 Do you need a simple gate for your commercial property or need an elaborate custom gate for the entrance to your estate? No matter what type of gate you want, J & J Gates Service and Design has a solution to fulfill your specific needs as well as your budget. To provide you with the best gate solution, we use an extensive inventory of trusted manufacturers and premium materials. We also have options for every budget, from low cost prefabricated gates to unique designs and premium materials. Contact our team today for questions about the styles of gates we provide in Duncanville, TX at (817) 466-2794. We work in several kinds of gate system design, installation, and repair, including:
Options for Everyone
You can rest easy knowing that our contractors take care to understand your requirements to achieve a reliable gate that meets your criteria. We will take all of your needs and preferences into our design process in order to create the right gate for you. Because we want you to be completely satisfied, we carry a wide variety of materials and perform custom design services. If you're unsure which kind of gate you need, our design team is happy to assess your property and criteria to deliver a free estimate. At J & J Gates Service and Design, we work hard to help you find the best possible solution while working within your budget. To learn more about our services, give us a call today or take a look at some of the styles of gates we install and repair:
Call us at (817)-466-2794 for professional service and premier gate installation and repair in Duncanville, TX today!