For quality gate repair and installation, J & J Gates Service and Design is your number one choice in the region. You can count on our skill and track record over the past 10 years in automated gate installation throughout the Dallas and Fort Worth metroplex. Call our team today at 817-466-2794 for exceptional gate services in Godley TX, including comprehensive repair and maintenance.
Our Services
Whether you need a repair done on an old gate system or want a stunning, custom fabricated gate, you can count on J & J Gates Service and Design. Not only can our talented technicians install gates and operation systems, but we additionally work on garage door openers, fences, and more. We want you to be happy with our services, so we make sure that your gate system is built to your needs to offer the best in security and beauty. Give us a call when you want trusted gate services in Godley, TX such as:
We Work on All Types of Gates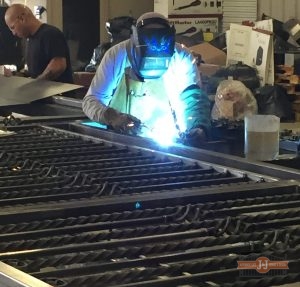 Do you need a stylish automated gate for the entry to your home, or a solar powered gate for your property? On each project, J & J Gates Service and Design works to meet your unique needs and stay within budget while providing quality, beautiful results. To provide you with the best possible solution, we carry an extensive inventory of trusted manufacturers and premium materials. We also have gates for every budget, from cost-effective prefabricated gates to custom designs and premium materials. Contact our team today for information about the styles of gate systems we offer in Godley, TX at (817) 466-2794. Talk to us today about the styles and prices of gate systems we install, including:
Options for Everyone
Because we offer skilled gate services to a wide array of clients, we know that different settings call for different solutions. This is why we are committed to providing complete satisfaction with our quality gate repair and installation. Because we want you to be fully satisfied, we carry a wide range of materials and perform custom design services. If you're unsure which type of gate system you need, our design team is happy to assess your property and criteria to deliver a free estimate. At J & J Gates Service and Design, we do our best to provide you with the perfect solution while working within your budget. To learn more about our gate services, give us a call today or take a look at some of the types of gates we install and repair:
Contact J & J Gates Service and Design at 817-466-2794 today for quality gate services in Godley, TX. We look forward to helping you!