If you need a superior gate for your residential or commercial property, choose J & J Gates Service and Design. You can count on our experience and track record over the past decade in automated gate installation throughout the Dallas and Fort Worth metroplex. Call our company today at (817) 466-2794 for professional gate system services in Haslet, TX, from new installation to repairs and more.
Our Services
Whether you need a repair performed on an aging gate system or want a stunning, custom fabricated gate, you can count on J & J Gates Service and Design. Our skilled technicians can service all types of gate systems, plus garage doors, fences, and other components. We want you to be happy with our work, so we ensure that your gate system is constructed to your needs to offer the best in security and beauty. Call us today when you need premier gate services in Haslet, TX, such as:
We Work on All Types of Gates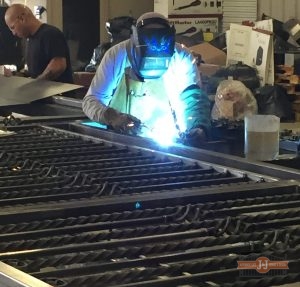 Do you want a decorative automatic gate for the entrance to your home, or a solar powered gate for your work site? On every job, J & J Gates Service and Design works to meet your specific needs and stay within budget while providing quality, professional results. To ensure the integrity of your gate system, we use quality manufacturers and materials, from the access systems the wood or metal of your gate. We also have gates for every budget, from cost-effective prefabricated gates to unique designs and premium materials. Contact our team today for information about the types of gates we offer in Haslet, TX at (817) 466-2794. We work in many types of gate system design, installation, and repair, including:
Options for Everyone
You can rest easy knowing that our contractors take care to understand your needs to achieve a quality gate that meets your criteria. We will take all of your criteria and desires into our planning process in order to create the right gate system for you. With our large selection of premium access systems and materials, you won't be disappointed with our services. We are happy to provide a free estimate for any project and can even help you design the perfect gate system for your property. We will help you create a gate system that fulfills your requirements and budget best! Some styles and types of gates we install and repair include:
When you need the best gate repair and installation in Haslet, TX, contact J & J Gates Service and Design at 817-466-2794.