If you need a quality gate for your residential or commercial property in Hurst, call J & J Gates Service and Design. J and J Gates has installed more than 1,000 gate systems throughout the Dallas and Fort Worth area over the past decade, and we are still growing. For professional gate system repair and installation, call our staff at (817) 466-2794.
Our Services
Do you need a repair done on an old gate system or want a stunning, custom fabricated gate? Our skilled technicians can repair and install all types of gate systems, as well as garage doors, fences, and other components. The main purpose gates provide are security and aesthetics, so we work hard to accomplish both according to your needs. If you need quality gate services in Hurst, TX, contact our team for any of the following:
We Work on All Types of Gates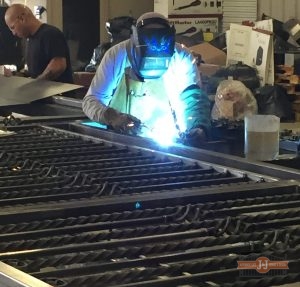 Do you need an automatic gate for the entry to your housing development, or a solar powered gate for your work site? If you need a minor or major repair project, J & J Gates Service and Design is here to help you get the ideal gate system for your property. By providing the best access systems and using quality materials in our work, you can rely on us to provide reliable, high-quality gate systems for each project. You may choose from our custom built gates or we can help design you a custom gate. Contact our team today for questions about the styles of gates we provide in Hurst, TX at (817) 466-2794. Talk to us today about the styles and prices of gate systems we install, including:
Options for Everyone
At J & J Gates Service and Design, we understand that each property owner has different needs and style in mind when they look for a gate. This is why we are dedicated to providing 100% satisfaction through dependable gate services. To provide top quality services, we have many options for you to choose from. Let our experienced crew help you find the perfect gate for your home or business. Our staff will do a careful inspection of your property and consider all your requirements in order to design the perfect gate system for you. Some styles and types of gates we service include:
Call us at 817-466-2794 for professional service and superior gate services in Hurst, TX anytime!.
Return to Tarrant County