If you need a quality gate for your commercial or residential property, choose J & J Gates Service and Design. Our company has worked on more than 1,000 gate systems all over the Dallas-Fort Worth area over the past 10 years, and we are still growing. Contact us anytime at (817) 466-2794 for professional gate services in Hutchins, TX, from new installation to repairs and more.
Our Services
Whether you need a repair done on an aging gate system or want a beautiful, custom built gate, you can count on J & J Gates Service and Design. In addition to gate system services, we also repair and install garage door systems, fencing, and more. We want you to be happy with our work, so we ensure that your gate system is constructed to your needs to offer the best in security and beauty. If you require quality gate repair and installation in Hutchins, TX, contact our team for any of the following:
We Work on All Types of Gates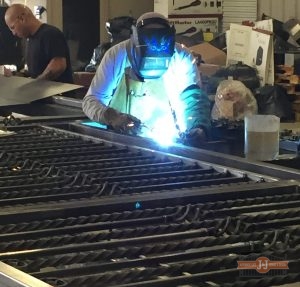 Do you need a simple gate for your commercial property or want an elaborate wrought iron gate for the entrance to your estate? No matter what type of gate you need, J & J Gates Service and Design has a gate to fulfill your unique needs as well as your budget. By providing the best access systems and using great materials in our work, you can count on us to provide reliable, high-quality gate systems for every project. You may choose from our built gates or we can help design you a custom gate system. When you need gate services in Hutchins, TX, contact our installers at (817) 466-2794 if you have any questions! No matter what style of gate system you are looking for, we have a solution for your business, such as::
Options for Everyone
After servicing gate systems for over ten years in DFW, we understand that each project is different because each client is different. We know that listening to our clients is the first step in providing the right gate for you. In addition to quality materials, we are dedicated to professional customer service and want you to have a great experience with us! Let our experienced team help you find the perfect gate for your property. We can help you create a gate that fulfills your requirements and budget best! Our crew works with all types of gates, particularly in automatic gates and more, including:
Call J & J Gates Service and Design at (817)-466-2794 today for exceptional gate services in Hutchins, TX. We look forward to serving you!