When you want a reliable, quality gate for your commercial or residential property, make J & J Gates Service and Design your top choice. You can count on our experience and track record over the past decade in automated gate installation throughout the Dallas and Fort Worth metroplex. Contact us anytime at (817) 466-2794 for expert gate system services in Lancaster, TX, from new installation to repairs and more.
Our Services
Whether you need a repair done on an old gate system or want a stunning, custom fabricated gate, you can count on J & J Gates Service and Design. In addition to gate system repair and installation, we also service garage door openers, fences, and more. We want you to be happy with our work, so we make sure that your gate system is constructed to your needs to offer the best in security and beauty. Call our company today when you need exceptional gate repair and installation in Lancaster, TX, such as:
We Work on All Types of Gates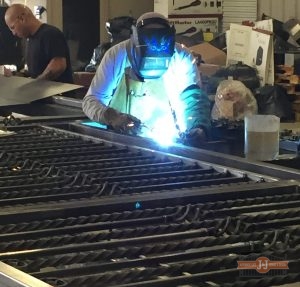 Do you need a rustic looking wooden gate for your ranch or a high-tech access system for your company? No matter what type of gate you need, J & J Gates Service and Design has a gate to meet your specific needs as well as your budget. To provide you with the best possible system, we carry an extensive inventory of reputable manufacturers and premium materials. You can choose from our prefabricated gates or we can help design you a custom gate. Call us at (817) 466-2794 to learn more about types of gate systems in Lancaster, TX we work with. No matter what kind of gate system you need, our technicians have a solution for you, such as::
Options for Everyone
At J & J Gates Service and Design, we understand that every property owner has different needs and design in mind when they look for a gate. We know that listening to our clients is the most important step in creating the right gate system for you. To provide the best services, we carry many options for you to choose from. If you're not sure what kind of gate you need, our design team is happy to assess your property and needs to deliver a free estimate. Whether you need a simple gate system or have a more complex request, we look forward to helping you find the right gate system. To find out more about our services, give us a call today or take a look at some of the types of gates we install and repair:
Call J & J Gates Service and Design at (817)-466-2794 today for exceptional gate services in Lancaster, TX. We look forward to serving you!