For superior gate repair and installation, J & J Gates Service and Design is your top choice in the region. Our company has installed over 1,000 gate systems all over the Dallas-Fort Worth area over the past decade, and we are still growing. Call us at 817-466-2794 for trusted gate repair and installation in Mansfield, TX anytime.
Our Services
Whether you need a repair done on an old gate system or want a beautiful, custom built gate, you can count on J & J Gates Service and Design. Not only can our talented technicians install gates and access systems, but we additionally work on garage door systems, fences, and more. We know that you want a secure, reliable system that will last for years to come, and we are dedicated to your complete satisfaction. When you require professional gate services in Mansfield, TX, contact our team for any of the following:
We Work on All Types of Gates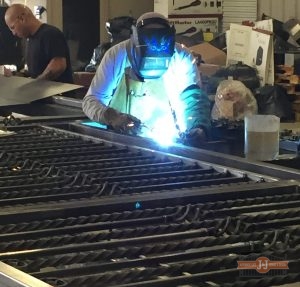 Are you looking for a basic chain link gate for your commercial property, or a unique wrought iron and wood gate for your home in Mansfield, TX? On each project, J & J Gates Service and Design works to meet your unique needs and stay within budget while providing quality, beautiful results. By providing the best operation systems and using quality materials in our work, you can count on us to build reliable, high-quality gate systems for each project. You can pick from our prefabricated options or we can help design you a custom gate. When you need gate installation in Mansfield, TX, contact our installers at (817) 466-2794 if you have any questions! We specialize in several types of gate system design, installation, and maintenance, including:
Options for Everyone
Because we offer professional gate services to a wide array of clients, we understand that different settings call for different solutions. We will take all of your needs and preferences into our planning process in order to create the best gate for you. To provide top quality repair and installation, we carry several options for you to consider. Call our company today for a complimentary estimate, or talk to our staff to determine what kind of gate would suit your needs. Our staff will do a careful measurement of your property and consider all your criteria in order to design the perfect gate system for you. Some styles and types of gate systems we service include:
Our skilled staff are here for you, so call us at 817-466-2794 when you need reliable gate repair and installation in Mansfield, TX.