J & J Gates Service and Design is available to provide all your commercial and residential gate system installation and repair. You can rely on our skill and track record over the past 10 years in automated gate installation in the Dallas and Fort Worth metroplex. Contact our crew today at (817) 466-2794 for exceptional gate services in Mesquite TX, including comprehensive repair and maintenance.
Our Services
At J & J Gates Service and Design, we specialize in everything from aging gate repair to constructing quality, high security gates for businesses and private residences. Our experienced installers can service all kinds of gates, plus garage doors, fences, and other components. We understand that you need a sturdy, reliable system that will last for years to come, and we are dedicated to your complete satisfaction. Call us if you need trusted gate repair and installation in Mesquite, TX such as:
We Work on All Types of Gates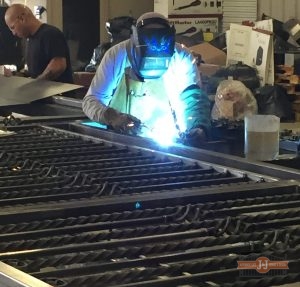 Do you need a stylish automated gate for the entry to your housing development, or a solar powered gate for your work site? No matter what kind of gate you want, J & J Gates Service and Design has a solution to fulfill your specific needs as well as your budget. To ensure the integrity of your gate, we use quality manufacturers and materials, from the access systems the wood or metal of your gate. You can pick from our prefabricated gates or we can help design you a custom gate. Call our company today for information about the types of gate systems we provide in Mesquite, TX at (817) 466-2794. No matter what style of gate system you need, our technicians have an option for you, such as::
Options for Everyone
You can rest easy knowing that our contractors take their time to understand your requirements to achieve a quality gate that meets your criteria. We will take all of your criteria and preferences into our planning process in order to produce the right gate for you. To provide the best repair and installation, we carry many options for you to consider. If you're unsure what kind of gate system you need, our design team is happy to assess your property and needs to deliver a free estimate. Whether you need a basic gate system or have a more complex request, we look forward to helping you find the ideal gate system. A few styles and designs of gate systems we service include:
Call J & J Gates Service and Design at (817)-466-2794 anytime for quality gate services in Mesquite, TX. We look forward to helping you!
Return to Dallas County