J & J Gates Service and Design is available to provide all your residential and commercial gate installation and repair. You can rely on our skill and great reviews over the past decade in automated gate installation throughout the Dallas and Fort Worth metroplex. Contact our company today at (817) 466-2794 for expert gate services in Palmer, TX, from new installation to repairs and more.
Our Services
No matter which type of gate system you require, J & J Gates Service and Design will get the job done right with your satisfaction in mind. In addition to gate system repair and installation, we also service garage door systems, fencing, and more. We want you to be satisfied with our services, so we ensure that your gate system is constructed to your needs to offer the best in security and beauty. For experienced gate repair and installation in Palmer, TX, call our crew for these services:
We Work on All Types of Gates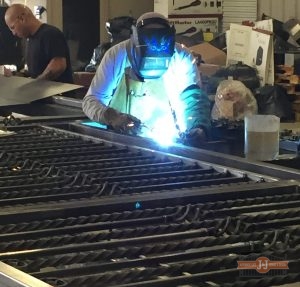 Are you looking for a secure chain link gate for your commercial property, or a stunning wrought iron and wood gate for your home in Palmer, TX? Whether you want a minor repair or a major project, J & J Gates Service and Design is available to help you get the perfect gate system for your property. By providing the best access systems and using quality materials in our work, you can rely on us to build reliable, high-quality gate systems for every project. We also have gates for every budget, from low cost prefabricated gates to unique designs and top of the line materials. If you have questions concerning our gate systems in Palmer, TX, call us at (817) 466-2794 for questions or to learn about our services. Talk to us anytime about the materials and types of gates we install, including:
Options for Everyone
Because we provide skilled gate services to a wide array of clients, we know that different situations call for different solutions. We will take all of your criteria and desires into our design process in order to create the right gate for you. In addition to quality products, we are committed to excellent customer service and want you to have a good experience with us! Contact our company anytime for a complimentary estimate, or talk to our staff to determine what kind of gate would suit your needs. We can help you find a gate that fulfills your needs and budget best! When deciding the style of gate system you need for your residential or commercial property, consider some popular styles:
Make the right investment by choosing J & J Gates Service and Design for your gate installation in Palmer, TX, and don't forget to call 817-466-2794 or a complimentary estimate!