When you want a superior gate for your residential or commercial property, call J & J Gates Service and Design. Our business has installed more than a thousand gate systems throughout the Dallas-Fort Worth area over the past 10 years, and we are still growing. For superior gate repair and installation in Plano, TX, contact our team at (817) 466-2794.
Our Services
Whether you need a repair performed on an old gate system or want a beautiful, custom fabricated gate, you can count on J & J Gates Service and Design. In addition to gate services, we also repair and install garage door openers, fencing, and more. We want you to be happy with our work, so we ensure that your gate is built to your needs to offer the best in security and style. If you require quality gate services in Plano, TX, call our team for any of the following:
We Work on All Types of Gates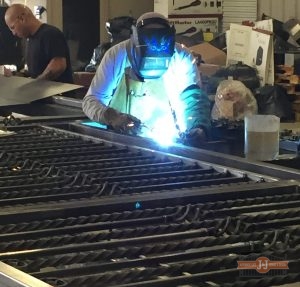 Do you want a stylish automated gate for the entrance to your home, or a solar powered gate for your property? On every job, J & J Gates Service and Design works to meet your unique needs and stay within budget while providing quality, professional results. By offering the best operation systems and using quality materials in our work, you can rely on us to build reliable, high-quality gate systems for every project. You may choose from our built options or we can help design you a custom gate system. If you have questions concerning our gates in Plano, TX, call us at (817) 466-2794 for information or to learn more. We specialize in several types of gate system design, installation, and maintenance, including:
Options for Everyone
You can rest easy knowing that our contractors take their time to hear your needs to achieve a reliable gate that meets your criteria. Our staff is fully committed to your satisfaction, and we make sure that you are happy before finishing a job. Because we want you to be fully happy, we offer a wide variety of materials and perform custom design services. Let our design crew help you design the right gate for your property. We can help you find a gate system that fulfills your needs and budget best! To learn more about our gate services, give us a call today or check out some of the styles of gates we install and repair:
Make the right investment by selecting J & J Gates Service and Design for your gate services in Plano, TX, and don't forget to call 817-466-2794 for a free estimate!