For superior gate services, J & J Gates Service and Design is your top option in the area. You can rely on our skill and great reviews over the past decade in automated gate installation across the Dallas and Fort Worth metroplex. Contact our crew anytime at (817) 466-2794 for premier gate repair and installation in Richardson TX, including comprehensive repair and maintenance.
Our Services
At J & J Gates Service and Design, we excel in everything from old gate repair to designing quality, high security gates for businesses and private residences. Not only can our talented technicians repair gates and access systems, but we also work on garage door openers, fences, and more. Depending on your unique property requirements and your budget, we will work tirelessly to provide you with a quality gate system to meet your needs. Call our company today when you need exceptional gate services in Richardson, TX, such as:
We Work on All Types of Gates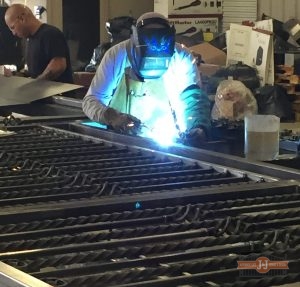 Do you need a decorative automatic gate for the entrance to your housing development, or a solar powered gate for your work site? No matter what kind of gate you need, J & J Gates Service and Design has a solution to meet your unique needs as well as your budget. By providing the best access systems and using great materials in our work, you can rely on us to provide reliable, high-quality gate systems for every project. You can pick from our prefabricated gates or we can help design you a custom gate system. If you are looking for gate installation in Richardson, TX, call our technicians at (817) 466-2794 if you have any questions! No matter what style of gate you need, our technicians have an option for you, such as::
Options for Everyone
Because we offer skilled gate services to a wide variety of clients, we understand that different situations call for different solutions. Our crew is completely committed to your satisfaction, and we make sure that you are happy before completing a project. To provide top quality services, we carry many options for you to consider. We are happy to give a free estimate for any project and can even help you design the perfect gate system for your business or residence. Whether you need a simple gate or have a unique request, we are happy to help you find the right gate system. Our crew works with many styles of gates, specializing in automated gates and more, including:
Contact J & J Gates Service and Design at (817)-466-2794 anytime for exceptional gate services in Richardson, TX. We look forward to serving you!