For superior gate services, J & J Gates Service and Design are your number one choice in the region. Our staff has over a decade of experience in working on all kinds of gate systems in DFW. Call us at (817) 466-2794 for quality gate system services in Roanoke, TX anytime.
Our Services
From maintaining aging automated gates to designing new gate systems for homes and businesses, J & J Gates Service and Design provides reliable service. Not only can our talented technicians repair gates and access systems, but we additionally work on garage door systems, fences, and more. We want you to be happy with our work, so we ensure that your gate system is constructed to your needs to provide the best in security and style. If you need quality gate repair and installation in Roanoke, TX, call our team for any of the following:
We Work on All Types of Gates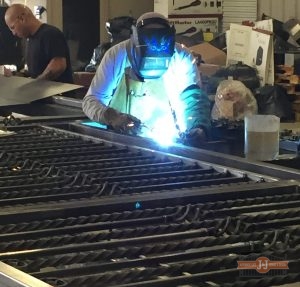 Are you looking for a secure chain link gate for your commercial property, or a stunning wrought iron and wood gate for your property in Roanoke, TX? On every project, J & J Gates Service and Design works to meet your specific needs and stay within budget while providing quality, professional results. To provide you with the best gate solution, we carry an extensive inventory of reputable manufacturers and quality materials. Plus, we specialize in custom gate fabrication so you can find the exact look that you want for your property. If you need gate installation in Roanoke, TX, contact our technicians at (817) 466-2794 if you have any questions! Talk to us today about the styles and prices of gate systems we install, including:
Options for Everyone
You can rest easy knowing that our installers take care to understand your needs to achieve a quality gate that meets your criteria. Our crew is fully committed to your satisfaction, and we make sure that you are happy before finishing a project. Because we want you to be completely happy, we offer a wide range of materials and offer custom design services. Let our design crew help you create the right gate for your home or business. Our staff will conduct a full measurement of your property and consider all your criteria in order to design a quality gate system for you. A few styles and types of gate systems we install and repair include:
Call J & J Gates Service and Design at 817-466-2794 anytime for exceptional gate services in Roanoke, TX. We look forward to serving you!.